Hellobank!
Involving 10.000s of users to optimize an online bank
Hellobank! Co-Creation Event
Jean-Paul Sartre is fam­ous for his many smart quotes, one of them being "find­ing the right answer is always easi­er than find­ing the right question".
That was exactly why we star­ted our Hellobank! Co-Creation event with an online con­test to col­lect a rich myri­ad of ques­tions around the cur­rent state of bank­ing. Within three weeks, we had 1,400
smart ques­tions. A great start­ing point for phase 2 of the event, the Ideation work­shop in Berlin. But let's start from the beginning.
get togeth­er inter­ested pro­spect­ive customers
work and col­lab­or­ate with them intensely
that no bank is offer­ing so far
It was spring 2012 when CortalConsors reached out to us with a rather unusu­al inquiry "Could you sup­port us with the Launch cam­paign for Hellobank! in Germany?". USEEDS° is a well-known pion­eer for user-centred design, but
cam­paigns are not really some­thing we do on a daily basis. So our answer was "Yes, sure, but it will be a user-centred event". They agreed and we star­ted design­ing the biggest online and off­line co-creation event ever.
Listen and Understand:
the Question phase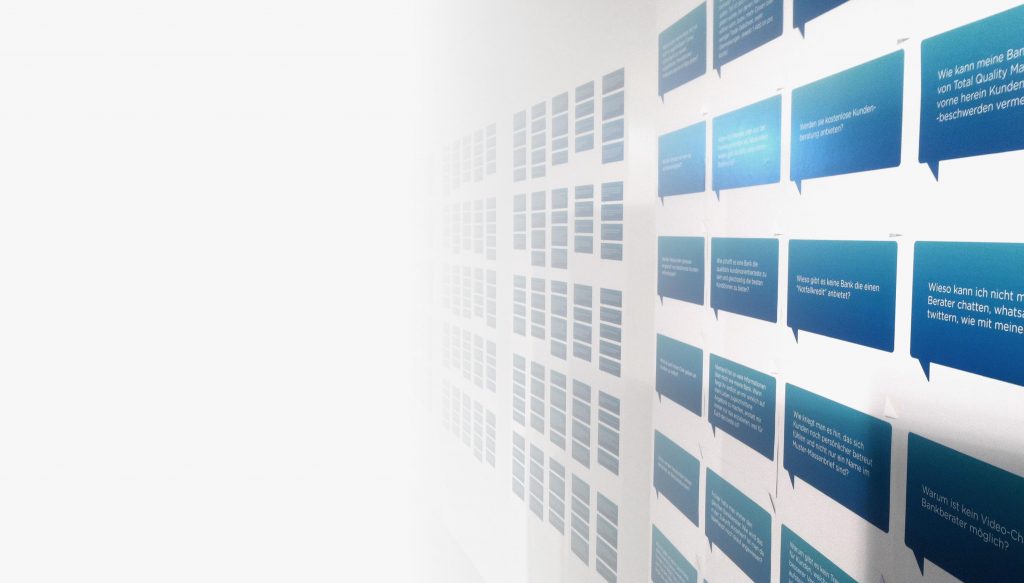 In the first phase, we wanted to get inspired by people. Let them be demand­ing, let them ques­tion the core busi­ness of our cli­ent, let them define the top­ics of Phase 2, the actu­al Ideation work­shop. With our cam­paign web­site hellobank.de users could enter their ques­tions and gain points to win one of the few "tick­ets to Berlin" to the Ideation event. "Why do I have to go to the ATM, why doesn't it come to me?" Questions like that one already made us think about future
ser­vices. In the end of phase 1, we had a huge pile of about 1,400 ques­tions. We needed to dig through all of them, to find our top­ics for the work­shop. We stood in front of these walls of ques­tions not know­ing exactly what to expect. It was like open­ing an old book in an antiques shop. We did not know what stor­ies would emerge and how they are con­nec­ted or what top­ics were most inter­est­ing to the com­munity of participants.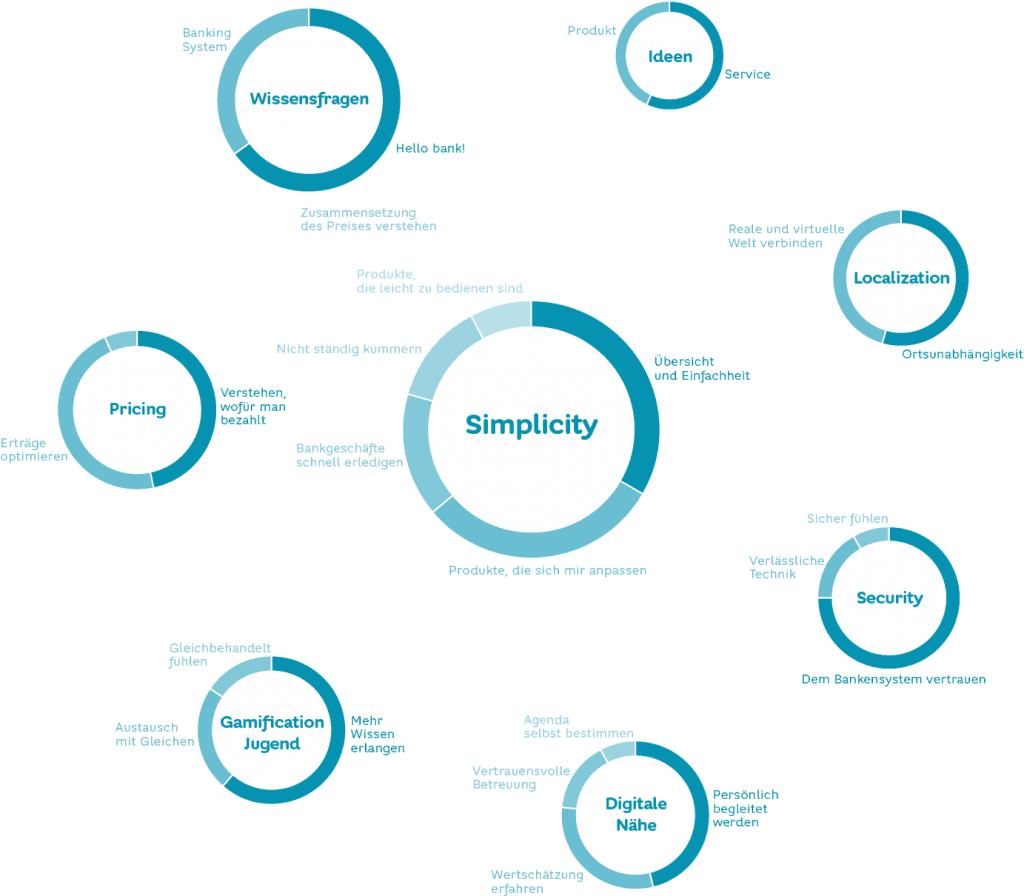 As a res­ult we had chosen three lead­ing ques­tions for the three days of Online and Offline Ideation in phase 2. The lead­ing questions:
How to man­age my money eas­ily and quickly?
How can bank­ing become more personal?
How can bank­ing be more inspiring?

Phase 2:
The Ideation event
Our aim was bold: we wanted to include the whole Online Community we cre­ated in phase 1 in the Ideation work­shop. The set-up we designed allowed the Community to con­tinu­ously watch what was hap­pen­ing through cam­er­as and a live ticker.
So far so good for the enter­tain­ment part. But we also wanted them to par­ti­cip­ate, so we had one per­son join­ing the cre­at­ive teams whom we called the "Avatar". The Avatar spoke for the com­munity (con­nec­ted via a live blog) and wore
a head-held cam­era to allow all online par­ti­cipants to be part of the dis­cus­sions and brain­storm­ing ses­sions. The com­ments and ideas of the com­munity were also shown on a huge "User Cube" stand­ing in the middle of the room.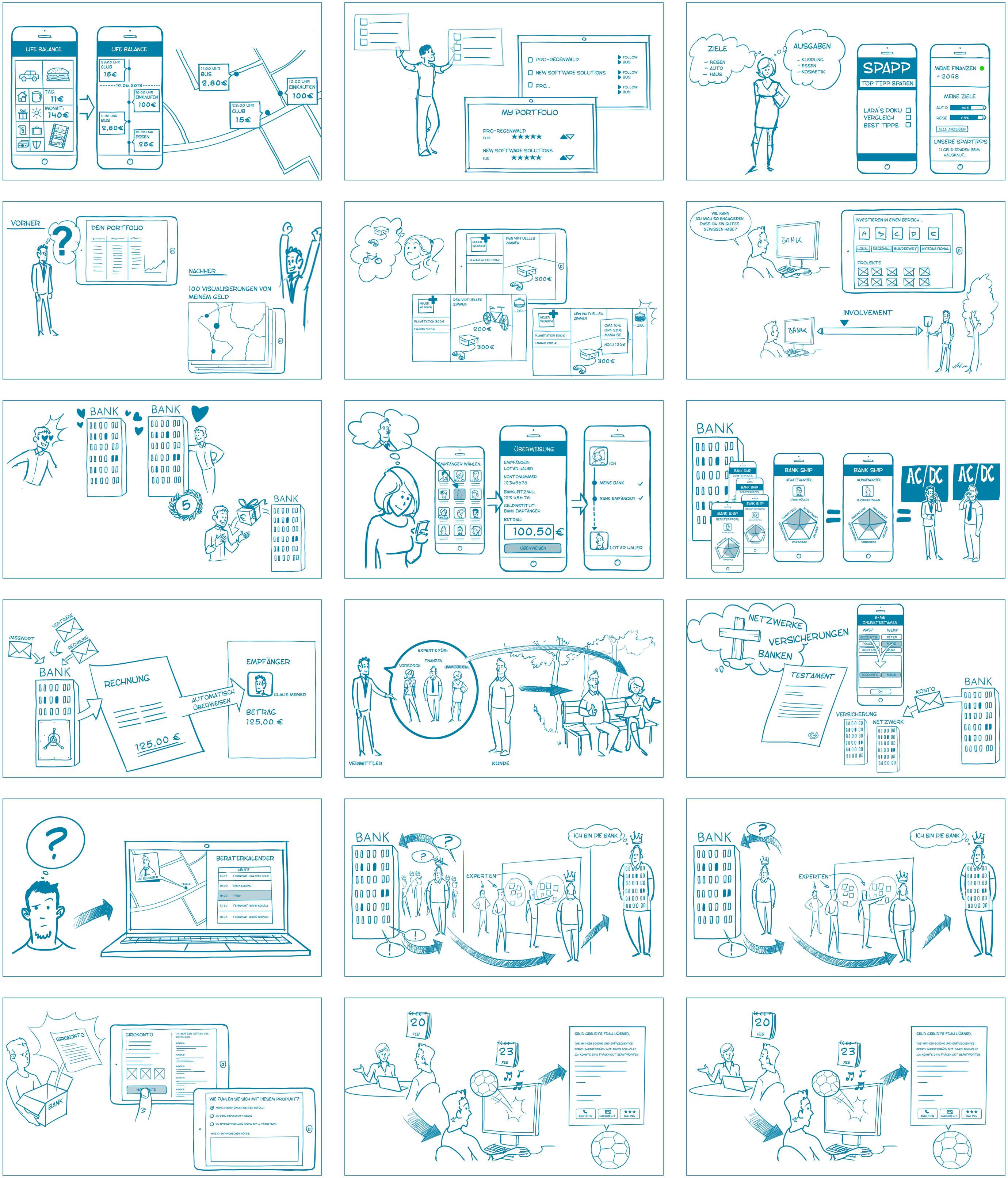 After only 3 days, we had a set of 18 ser­vice innov­a­tions to define the future of bank­ing. Co-created by some thou­sand people all over Germany. A great open­ing for the new German brand "Hellobank!
Engaging the user:
the set up
We all know online co-creation ini­ti­at­ives like Tschibo, ideo, Starbucks etc. But when I tried to get involved in this ini­ti­at­ive as a cus­tom­er, I always missed something.
It is the magic that hap­pens when you do an ideation pro­cess with oth­er people in one room — the moment when you real­ize that someone made a very good point and you could build on that to make the solu­tion even bet­ter. And then you start work­ing as a team to fig­ure out all aspects of the idea. You get really excited and at
the end, you believe you were part of some­thing spe­cial. That nev­er happened to me in an online work­shop. So we wanted the exper­i­ence of a work­shop tak­ing place at a one phys­ic­al loc­a­tion, with the pos­sib­il­ity to par­ti­cip­ate from wherever you are — online.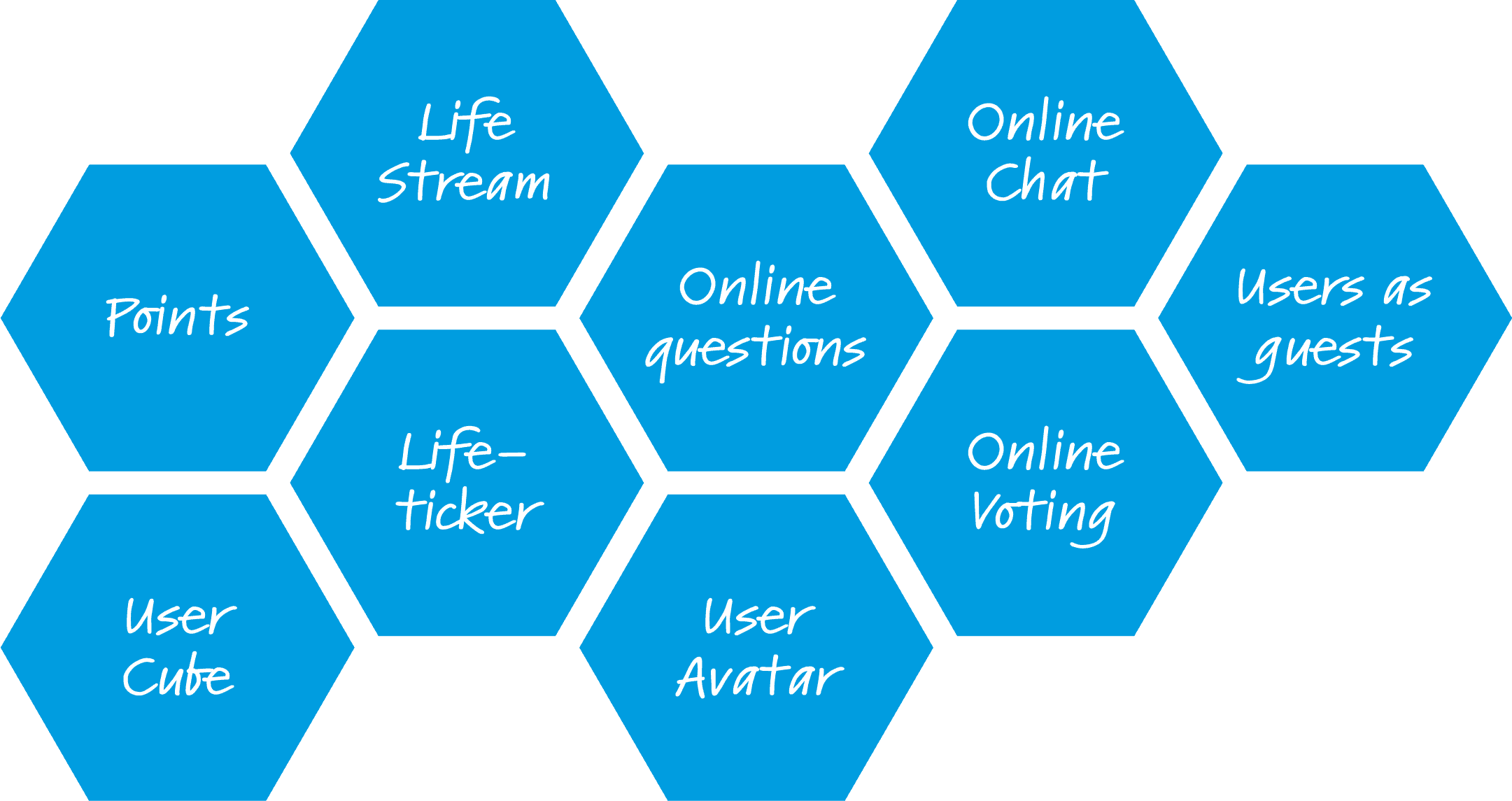 Our Cases